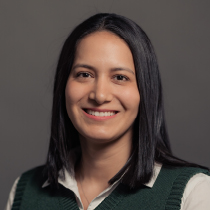 Graphic Designer / Marketing Admin
Gabriela is an experienced talented Graphic Designer with over 7 years of experience in the industry. Gabriela's design philosophy is simple: to create designs that not only look beautiful but also communicate a clear message and connect with the intended audience. She takes the time to understand her client's needs and goals and works closely with them to develop a design solution that meets their specific requirements.
Gabriela has honed her skills in graphic and visual design, branding, and digital marketing. Over the years, she has worked on a range of projects, including designing logos for corporate brands, and creating infographics to simplify complex concepts. She also created and executed ideas for print pieces, signage, marketing materials, daily emails, web layout, product styling, video production and editing, photo editing, and CMS management.