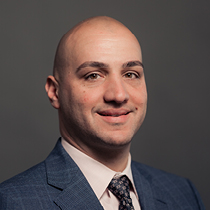 George Margaronis began his real estate career in 2000 and has risen through the ranks of the commercial real estate industry at a remarkable pace. His hard work, dedication and common sense approach has produced an impressive volume of transactions in commercial, industrial and development Brokerage in the outer boroughs of New York City. His superior market knowledge, analytical skills, and unique ability to get things done has produced a loyal following of small businesses, large corporations, institutional investors and developers.
Summary of Transactions
Himmel & Merringoff Properties / Square Mile Capital Management: facilitated the sale of 1601 Bronxdale Ave, Bronx N.Y. a 350,000 SF Multi-tenanted Industrial / Office complex. Sale price: $89,000,000.
Steinway Park – Astoria: represented the L Group; a prominent Queens developer for the marketing and sale of an Industrial Development consisting of 11 buildings totaling 48,150 SF. Project sold out within 12 months with a total transaction volume of $19,500,000.
184-10/60 Jamaica Avenue, Jamaica: George and a team of Pinnacle partners and associates exclusively represented the Seller's of this 600,000 SF Multi-Story Industrial Building. Sold to Madison Realty Capital for $79,000,000.
Spar Knitwear Complex: 22-19 41st Avenue + 21-21 41st Avenue, Queens Plaza, Long Island City. Approximately 200,000 SF in two buildings. Exclusive Agents for the Landlord to reposition and lease this Flex / Loft / Office Building.
Technico Construction: Sold Technico Construction a 2.5-acre Industrial site located at 42-02 56th Road, Maspeth, NY and subsequently leased of the site to Haddad's Inc.; one of the largest movie/TV production equipment rental companies in the United States.
Wharton Equity: facilitated the sale of 35-01 36th Street, Long Island City, NY a 50,000 SF Office / Retail property for $24,000,000. Wharton Equity plans to develop the property for office tenants.
Best Way Carting: represented Best Way Carting in purchasing 86,000 SF of land located at 340-366 Beach 80th Street, Rockaway NY, and subsequently represented Best Way Carting for the leasing of the entire site to Silver Cup Scaffolding.
Emmes buys Studio Square: Emmes Asset Management on the behalf of one its pension fund clients buys Astoria's Beer Garden site located at 35-37 36th Street, Long Island City, NY for $31,000,000. Studio Square will remain on the ground floor while Emmes will convert floors 2-6 to office space. Represented both the seller and purchaser.
Emmes: Retained exclusively by a local developer to sell, 47-16 Austell Place, Long Island City, NY a former 51,200 sq. ft. manufacturing plant. This assignment was successfully completed by procuring Emmes Asset Management as the purchaser for $13,500,000. Emmes will convert the entire building to creative loft space and shared office workspace.
WB Mason Co. Inc.: Office Supply Giant – W.B. Mason Co. Inc. lease of 107,000 sq. ft. 1- story warehouse + 63,000 sq. ft. of land located at 1160 Commerce Avenue, Bronx, NY has an aggregate rental of over $28.5 million.
Dykes Lumber: Successfully sold Dykes Lumber, 43-10 10th Street, Long Island City NY a 25,000 sq. ft warehouse with 15,000 sq. ft. of land for $7,100,000.
Verizon to Best Way Carting: Retained exclusively by Verizon to sell their 95,000 sf facility at Greenpoint, Brooklyn. This assignment was successfully completed by procuring Best Way Carting as purchaser. The property was sold for $6,300,00.
Cornerstone Medical Group: Lease of the 70,000 sf former St. Josephs facility, located at 159-05 Union Turnpike, Fresh Meadows, New York. Represented the tenant.
Dickward Widder Industries: Retained exclusively to lease a portion of their 150,000 sf facility in Maspeth, Queens. In the toughest environment since the Great Depression the assignment was successfully completed.
MBS LOVE: Retained exclusively to sell their 36,000 sf warehouse in College Point, Queens. The assignment was successfully completed with the procurement of Mondial Automotive, the purchaser.
Creative Tube Bending: Retained exclusively to sell their 28,500 sf warehouse in Brooklyn, NY. This transaction was successfully completed by procuring more than 90% of the asking price.
Midtown Express: The largest subcontractor for Time Warner Cable. Facilitated the leasing of an office warehouse facility in Long Island City. Represented both tenant and landlord. Also facilitated the leasing of their 55,000 sq. ft. facility in Maspeth, Queens.
Other notable transactions with:
NYC SCA
FOS Development
United Rentals
Drive Sally
New Castle
O'Connor Capital Partners
Amalgamated Bank
Jonathan Adler Inc.
Crush Wines
Fresh Direct
Dynamex
Med Star
Mount Sinai
New Castle
Odegard
Widex
Mondial Automotive
UA Plumbers Local No. 1
Leather Spa