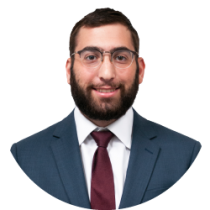 Levi is a licensed real estate salesperson specializing in the sale and leasing of commercial, industrial and development properties in the outer boroughs
of New York City. His commitment to his clients, innovative marketing strategies and superior market knowledge have produced a growing number of customers
and clients.
Levi holds a degree in Rabbinical studies form both the Rabbinical College of America and from the Educational Institute of Oholei Torah.
Summary of Transactions
601-615 Sackett Street, Brooklyn: Exclusive agent for the 23,000 sq. ft. warehouse in Gowanus, sold for $11,700,000.
23-41 Ferris Street, Brooklyn: Procured buyer and retained as exclusive agent for this 20,000 sq. ft. site in Red Hook, sold for $6,500,000
1058 Pacific Street, Brooklyn: Represented ownership in the leasing of 12,800 sq. ft. warehouse
156 6 Street Brooklyn: represented tenant in the leasing of 11,700 sq. ft.
1539 Troy Avenue, Brooklyn: 10,000 sq. ft. Leased
30 Havens Place, Brooklyn: Represented tenant in the leasing of 8,000 sq. ft.
905 Atlantic Avenue, Brooklyn: 7,250 sq. ft. Leased
147 41 Street, Brooklyn: 6,500 sq. ft. Leased
113 Dobbins Street, Brooklyn: represented tenant in the leasing of 5,000 sq. ft.
760 Rockway Parkway, Brooklyn: 4,000 sq. ft. Leased
170 53 Street, Brooklyn: 4,000 sq. ft. Leased
89 19 St, Brooklyn: Leased 4,000 sq. ft. to an artist
82 18 Street Brooklyn: 4,000 sq. ft. Leased
9508 Ditmas Avenue, Brooklyn: Leased 3,500 sq. ft. to a shipping company
1050 Rockway Avenue, Brooklyn: 2,000 sq. ft. Leased