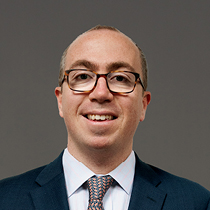 Paul Bralower is a full service real estate broker specializing in the sale and leasing of industrial, commercial and development properties, focusing exclusively on the outer boroughs of New York City.
With over a decade of experience, Paul has closed more than 300 sale and lease transactions with an aggregate value of over half a billion dollars. Dedication to customer service, superior market knowledge and placing an emphasis on developing long term relationships, has positioned Paul as one of the industry leading brokers in the outer boroughs. Paul has the local market knowledge and experience to service the most challenging New York City requirements or assignments.
Paul is a graduate of Marist College where he studied finance and marketing and holds a Bachelors Degree in business administration.
Summary of Transactions
615,000 sq. ft. – Madison Realty Capital & Artemis Real Estate Partners – 184-10/60 Jamaica Avenue, Jamaica NY: Retained exclusively to facilitate the sale of the 615,000 sq. ft multi tenanted industrial complex, the assignment was successfully completed by procuring Madison Realty Capital and Artemis Real Estate Partners as buyers, Sale price $78,000,000.

141,500 sq. ft. – Subsequently represented institutional ownership in the leasing of 141,500 sq. ft. in 6 lease transactions. Tenants included French Connection, Dress for Success Worldwide, 4px EXPRESS USA, Wit Zenith Trading and Moga Packaging.
200,000 sq. ft. – Verizon- 297 Norman Avenue, Greenpoint, 100-02 Atlantic Avenue, Ozone Park, 12-11 Redfern Avenue, Far Rockaway: part of the Pinnacle team retained by Verizon in the sale of three industrial properties totaling 200,000 sq. ft.
175,000 sq. ft. – Bronx: As exclusive representative for a Canadian cement company in search of a large waterfront site for their business. Paul was part of the pinnacle team that was able to find them a 4-acre waterfront property in the Bronx where they built a state of the art cement processing facility, which is now one of the largest in the country
90,000 sq. ft. – 22-19 & 21-21 41st Avenue, Long Island City: as exclusive agent for two industrial loft buildings totaling over 200,000 sq. ft. represented ownership in 13 lease transactions. Spaces ranged in size from 1,800 sq. ft. to 16,500 sq. ft.
86,000 sq. ft. – 44-22 54th Road, Maspeth: brokered one of the largest industrial sales in queens at the time
87,500 sq. ft.- 7 Bushwick Place, Bushwick: represented ownership in the sale of a fully leased 87,500 sf Industrial loft building
78,000 sq. ft. – Last Mile Distribution: 31-10 48th Avenue, Long Island City: Procured a last mile distribution tenant in a long term lease in one of Queens largest warehouse deals of the year
75,000 sq. ft. – NYC infrastructure improvements: in multiple transactions leased office space, yard space and warehouse space to several of the world's largest construction companies. Tenants included Tutor Perini, Rail Works, Skanska and Comstock
74,000 sq. ft. – 513 Irving Avenue, Ridgewood: Brokered a long term lease to international food manufacturer CJ America / TMI Trading
60,000 sq. ft. – 37-21 32nd Street, Astoria: procured an international developer as a buyer of a former factory turned residential development site- $8,125,000
61,000 sq. ft. – New York City Administration for Children Services – 245 East 149th Street, Bronx: As exclusive agent represented in the leasing of one of the largest modern daycare facilities in NYC
61,000 sq. ft. – Independent Chemical – 79-01 71st Avenue, 70-30 79th Place and 79-51 Cooper Avenue, Glendale: Represented ownership in the sale of three buildings formerly occupied by the independent chemical company to three separate buyers- transaction total $11,300,000
48,100 sq. ft. – Steinway Park – Astoria: represented the L Group; a prominent Queens developer for the marketing and sale of an Industrial Development consisting of 11 buildings totaling 48,150 SF. Project sold out within 12 months with a total transaction volume of $19,500,000.
45,000 sq. ft. – Napa Auto Parts- 32-31 57th Street, Woodside: Tasked with a vacant industrial building, as exclusive agent successfully repositioned the property by procuring to two tenants, NAPA Auto Parts and MIC Tires. With the rental income the property was sold to an investor doing a 1031 exchange
39,000 sq. ft. – 41-20 39th Street, Long Island City: procured a buyer who had a 1031 exchange in the investment sale of a fully leased office/warehouse occupied by fine art storage tenant Cadogan and Tate. Sale price $13,000,000
38,500 sq. ft. – 41-15 23rd Street, Long Island City: the sale of a former factory turned residential development site to an international residential developer
33,000 sq. ft. – 57-35 Flushing Avenue, Maspeth: sold an industrial complex that was a combination of building and land-$4,800,0000
26,000 sq. ft. – 4601 2nd Avenue, Sunset Park: represented the seller as exclusive agent in the sale of a Brooklyn warehouse $6,900,000
22,900 sq. ft. – Steel Equities- 53-07 Nurge Avenue, Maspeth: procured a buyer in the sale of a Steel Equities 22,900 sq. ft. industrial property- sale price $7,100,000 Subsequently represented new ownership in leasing the property
20,000 sq. ft. – 58 Junius Street, Brooklyn: the sale of a warehouse to a produce company, sale price $2,850,000
18,500 sq. ft. – E-Commerce 41-38 37th Street, Long Island City: brokered a lease transaction to an expanding online retailer for a new office/warehouse
18,000 sq. ft. – 43-15 20th Avenue, Astoria: sold a warehouse building for $5,900,00. Subsequently leased the building for the new ownership two tenants
17,500 sq. ft. – Long Island City & Greenpoint: The leasing of two warehouse spaces to a motion picture props company expanding into NYC
15,500 sq. ft. – 42-07 20th Avenue, Astoria: the sale of a warehouse building to an investor for $6,150,000
15,000 sq. ft. – 186 Huron Street: the sale of a former food distribution warehouse turned residential development site
13,500 sq. ft. – 44 Box Street, Greenpoint: as exclusive agent represented the seller of a residential development site. Sale price$4,150,000
12,500 sq. ft. – 23-41 Borden Avenue, Long Island City: the leasing of a warehouse/office space to Center Staging LLC in there first NYC location
11,300 sq. ft. – 58-61 55th Street, Maspeth: Retained exclusively to facilitate the sale of the 1-story industrial building. The assignment was successfully completed by procuring a Buyer for $2,300,000
Notable transactions with:
Pace Plumbing
Allied Building Products
ASPCA
The New York Road Runners
Bread Alone
Thyssenkrup
Taco Bell
Paul Kasmin Gallery
Ford
Lorin Marsh
All State Insurance
Madison Realty Capital and Artemis Real Estate Partners
New York City Administration for Children Services
French Connection
TMI / CJ America
Bank of America
US Trust
Skanska
Railworks
Tutur Perini
LK Comstock
Industry City
Napa Auto Parts
Prologis
David Zwirner
Boyce Technologies
Steel Equities
Verizon
Dress for Success Worldwide