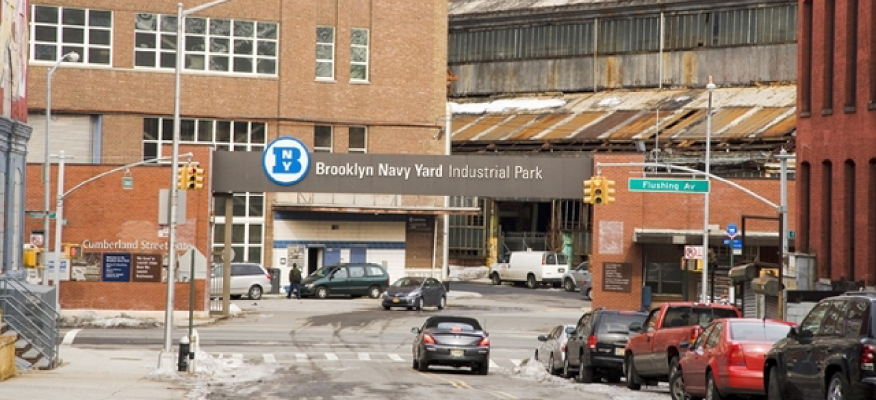 Demand For NYC Industrial Space Drives Rents Up
No one thought much of it when a two-story, 12,700-square-foot industrial building in Sunset Park, Brooklyn, went on the market late last year. In due course, a bidder appeared and discussions began; then the floodgates opened.
"We were in final negotiations with one guy, and all of a sudden people were coming out of the woodwork," said Adam Hess, then a vice president with Massey Knakal and now a partner at brokerage Terra CRG.
Ultimately, five firms bid on 335-347 38th St., including two food distributors, a heating and cooling company, and a noodle maker. The winner was Window-Fix, with a bid of $1.65 million. That translates to $160 a square foot for the first-floor industrial space (the second floor is for offices), a few dollars less than it might have fetched at the market peak in 2008.
"It wasn't cheap, but it's worth it because we need more space to grow our business, and we need easy access to all five boroughs," said Ernie Capello, owner of Window-Fix.
As Mr. Capello and his rival bidders can attest, the city's industrial property market is hot. Unlike its commercial and residential cousins, the overlooked sector is largely an outer-borough one, with 177 million rentable square feet in Brooklyn, Queens and the Bronx alone, CB Richard Ellis estimates.
And it came through the downturn just fine. In the city outside of Manhattan, the industrial market had sales of $312 million last year— an average of $138 a square foot, or about 25% off 2008's frothy peak, according to Real Capital Analytics data.
Figures for leased space show similar trends, with deals signed at an average rent of $11.73 a square foot in the fourth quarter, just 10% off peak levels, according to CoStar. And prices are rising.
"It's becoming difficult to find better space under $12 a square foot, and you're seeing some going for $15," said Alan Weisman, executive managing director of Grubb & Ellis in New York.
Demand is coming from small and large businesses alike. In the latter group is fine-art auctioneer Christie's, which leased 218,800 square feet in Red Hook, Brooklyn, last year. Also in 2010, Verizon Wireless took 130,700 square feet in the Castle Hill section of the Bronx, and Federal Express leased 110,000 square feet in Astoria, Queens.
The vacancy rate in New York's industrial market stood at 4.7% at the end of 2010, just half a percentage point above the 2008 peak, according to CoStar data. It was also a fraction of the 10.5% average vacancy rate in Manhattan's office market at year-end, according to Cushman & Wakefield.
Vacancy rate also reflects a major reduction in the supply of manufacturing and warehousing space. The New York Industrial Retention Network estimates that 23.4 million square feet of such property was rezoned between 2001 and 2008.
"There's no doubt that the city's rezoning effort has been a huge part of the supply-demand equation," said Joseph Simone, president of Simone Development. The tightness is a major reason behind Mr. Simone's decision last year to buy a 90,000-square-foot property on Zerega Avenue in the Bronx. He's renovating the vacant building to meet anticipated rental demand.
A local economy that weathered the recession relatively well and city programs designed to entice small manufacturers to the outer boroughs are also helping drive the movement.
Bestway Carting paid Verizon $6.3 million in January for a 95,000-square-foot building on Norman Avenue in Greenpoint, Brooklyn, that needed refurbishing.
"Going out to New Jersey, or even Jamaica or the Rockaways, would have been much cheaper," said Bestway's president, Luciano Casagrande. "But it would have been more expensive for us in the long run, between added transportation time to my customers and my employees."
His growing company needed more space and easy access to customers via the Brooklyn-Queens and Long Island expressways, Mr. Casagrande said.
"Demand is definitely outstripping supply for both sales and rentals in small to midsize properties," said George Margaronis, a partner at Pinnacle Realty in Long Island City, Queens, who represented Verizon in the transaction with Beltway.
Dramatically lower rents across the Hudson, however, continue to at least tempt businesses in need of storage and distribution space. Negotiations are under way to keep both the wholesale produce market and the New Fulton Fish Market from leaving city-owned facilities in Hunts Point, the Bronx, for cheaper digs in New Jersey.
For many, though, the convenience of the city beats the cost savings that the Garden State offers.
"People who need to be close to their stores, clients and customers in the city realize they need to keep their facilities here, even if it costs more," said Howard Kesseler, a vice president at Newmark Knight Frank, who just leased 90,000 square feet at the former Budweiser plant in Long Island City to New Sensor Corp. Asking rent was $15 a square foot.
Japan Foods, which owns a 100,000-square-foot building in Long Island City, is banking on continued strong demand. The import company put the building on the market late last year at a pricey $200 a square foot—about what it would have fetched at the peak, said John Reinertsen, senior vice president at CB Richard Ellis, who is handling the property.
"They know there's a lot of demand out there now, and they don't need to sell" right away, Mr. Reinertsen said.
A version of this article appeared in the April 18, 2011 print issue of Crain's New York Business.