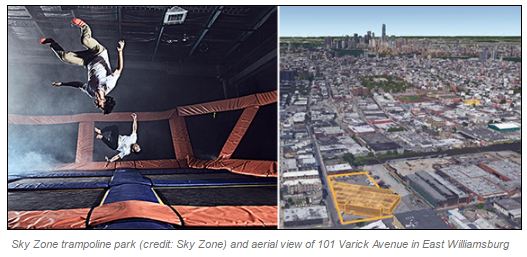 Rabsky in talks to sign trampoline park at W'burg complex
Rabsky, one of Brooklyn's most active developers, closed on the purchase of the 3.4-acre site at 101 Varick Avenue for $45 million last week. Display case manufacturer M. Fried recently vacated the site's one-story, 92,000-square-foot building, which it had owned and occupied for 25 years.
Pinnacle Realty's David Junik and Abraham Lowy brokered the sale of the building and are handling leasing at the property.
"A large, one-story building with a lot of extra land in this area is rare," Junik said. "At a time when so much of the office inventory is in existing or converted warehouses, there is an opportunity to create a certain vibe in the creative office scene with a brand-new structure."